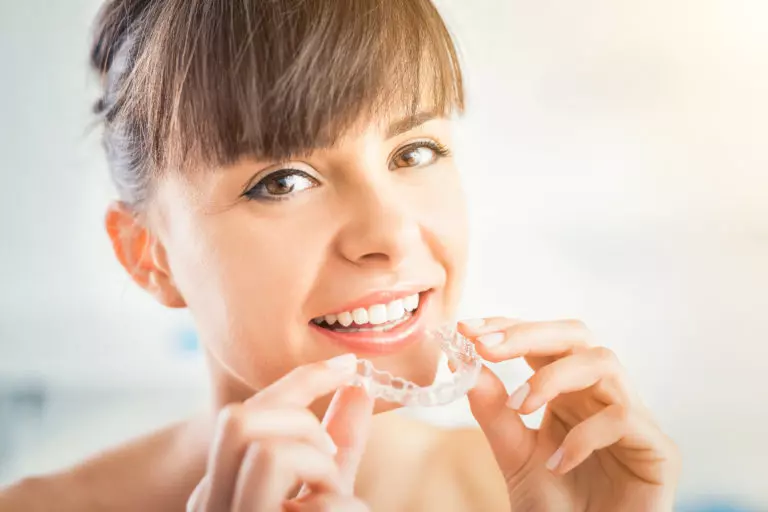 Are you in the early stages of planning your wedding and dreading the thought of smiling for photographs? No matter how much time you spend finding the perfect dress, jewellery, and hairstyle, if you're not confident with your smile on your big day you won't be feeling your best. Fortunately, there's a solution for even the busiest bride-to-be – read on to find out how Invisalign can help you achieve the perfect smile in time for the perfect occasion.
Do I have time to straighten my teeth?
Most orthodontic treatment takes around 2-3 years to complete, and many brides are understandably reluctant to risk unsightly fixed metal braces ruining their wedding photos. The beauty of Invisalign is that treatment time is generally much shorter (usually between 9-12 months, depending on individual cases). Even if you are still undergoing treatment when your big day arrives, Invisalign aligners are both discreet and removeable so you can take them out for those all-important close-up photos. Many Invisalign patients find that they see noticeable changes in their smiles very soon after they begin treatment, so don't let the fact that you can't complete your entire treatment plan before your wedding day put you off improving your smile.
Can I fit orthodontic treatment around wedding planning?
As a bride-to-be, you probably have a million and one things on your to-do list and orthodontic treatment can seem like one obligation too much. With Invisalign, the reality is that treatment won't interfere with your everyday life:
No dietary restrictions – Invisalign aligners are removable, which means you don't need to worry about avoiding certain foods during treatment. Sampling wedding cakes or trying out different caterers isn't an issue with Invisalign – you can simply remove the aligners while you're eating, brush your teeth, and pop them back in. Many brides find that Invisalign helps them to stop snacking in between meals, so if you're trying to lose a few pounds before your big day, orthodontic treatment might have an unexpected benefit!
Fewer appointments – After you've had your initial Invisalign consultation and we've created your step-by-step 3D treatment plan, your orthodontist here at Chiswick Park Dental & Facial will likely only need to see you once every 6 weeks to make sure your progress is on track. We'll give you a detailed plan telling you when to switch out your aligners for a new set, so you know exactly what to expect throughout your treatment.
Discreet appearance – Invisalign is a great option for brides who might be worried about orthodontic treatment disrupting engagement photo shoots or family events. The aligners are practically invisible, and most people won't even notice that you're wearing them. For those who still feel self-conscious about their appearance, removing them temporarily for close-up photographs or speeches is an option as long as you keep your aligners in for at least 20-22 hours each day.
If you're considering orthodontic treatment in time for your wedding, we recommend making an appointment as soon as possible to give you the maximum amount of time to transform your smile. We offer a free 15-minute Invisalign evaluation here at Chiswick Park Dental & Facial, with Saturday appointments available until 8pm. Contact us today to find out more.